Buy a quality, renovated mattress for less at your local St. Vincent de Paul thrift store.
What is a renovated mattress? Our partner, Chicago Mattress Company (CMC), purchases high quality name brand beds from colleges, hotel chains, and retail distributors. Once the bed arrives at the CMC warehouse, they remove everything but the springs or core – taking out the original stuffing and recycling it elsewhere. Finally, CMC's skilled craftsmen rebuild the mattress or boxspring. They replace the cushioning and the covers – giving the bed a whole new lease on life.
Renovated mattresses are produced to the same quality and hygiene standards as new retail beds, so you get a great price without sacrificing standards. And all St. Vincent de Paul mattresses and boxsprings are covered by a 5 year unconditional warranty.
As with all St. Vincent de Paul purchases, buying a bed at your local SVdP store supports local families in need. Stop by any of our local St. Vincent de Paul stores for more information regarding our renovated beds.
Still not sure if a renovated mattresses or box spring is right for you?  Here are three reasons to stop by St. Vincent de Paul and see what we have to offer.
#1: Great prices on quality mattresses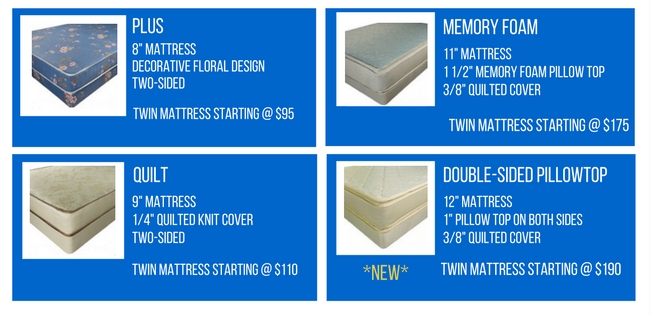 Purchasing a new bed can be a major undertaking.  At St. Vincent de Paul, we try to cut down on the stress of buying a new bed by providing quality renovated products at reasonable prices.  Also, all of our renovated mattresses and box springs come with a 5 year full replacement warranty that you can find here.
Check out our price list and then stop by your local St. Vincent de Paul for more information and to see the products in person.
Plus
Mattress
Box Spring
Set
Twin
$95
$65
$160
Full
$115
$70
$185
Queen
$130
$75
$205
King
$215
$135
$350
Quilt
Mattress
Box Spring
Set
Twin
$110
$70
$180
Full
$125
$85
$210
Queen
$150
$90
$240
King
$225
$145
$370
Memory Foam
Mattress
Box Spring
Set
Twin
$175
$75
$250
Full
$190
$90
$280
Queen
$215
$95
$300
Pillowtop
Mattress
Box Spring
Set
Twin
$190
$80
$270
Full
$205
$95
$310
Queen
$230
$100
$330
#2:  Renovated beds help decrease unnecessary waste
A majority of the approximately 40 million mattresses purchased annually will eventually be thrown away rather than recycled.  And that can pose some problems for landfills throughout the United States.  Mattresses are large and routinely float to the top of a landfill – not to mention they can be flammable!
By purchasing a renovated mattresses and box spring from St. Vincent de Paul, you save that mattress from a landfill & help decrease unnecessary waste.
#3:  You're supporting your neighbors in need
As with all your purchases at St. Vincent de Paul, when you buy a renovated mattress or box spring, you support families in need throughout the Pittsburgh area.
The next time you need a new bed, stop by St. Vincent de Paul.  Not only will you get a quality mattress and box spring, you provide food for a local family, clothes for a single mom trying to make ends meet, or even a bed for a child in need.
Renovated mattresses and box springs are available at all six of our locations.  Not sure which store is closest to you?  Click here for store contact information and hours.