Giving Tuesday – Take an Unselfie
We wanted to take a moment to share another way you can participate this Giving Tuesday! We're asking you to help us spread the word about the great work done by local St. Vincent de Paul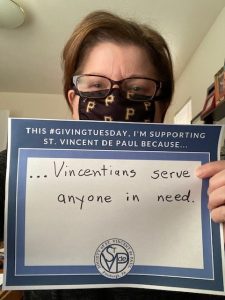 volunteers and conferences by posting an "unselfie" on Facebook or Instagram over the next few days.
What exactly is an unselfie?
An unselfie is just like a selfie, but with a generous twist. All you have to do is take a photo of yourself holding a sign that tells your followers why you're supporting the Society of St. Vincent de Paul this Giving Tuesday.
It's a quick way to get the word out about the good work of St. Vincent de Paul and why it matters to you.
You can participate in our unselfie movement by following these steps.
Download & print the unselfie sign from our website (Unselfie Flyer):  If you don't have a printer at home, feel free to make your own version!
Write your reason for supporting St. Vincent de Paul on your sign.
Take a picture of yourself with your sign (or have another member of your household take the picture for you).
Post your photo on Facebook or Instagram. Feel free to tag us @svdppitt and we'll share your picture on our page as well!
Even as we practice physical distancing, we can remain connected through kindness and generosity.
This Giving Tuesday, we hope you'll join us in spreading the word about the work of our dedicated volunteers and local conferences as they continue to provide vital assistance to our neighbors in need.