Kraken Apothecary now sold at St. Vincent de Paul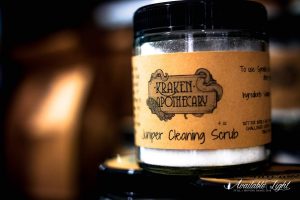 If you've visited St. Vincent de Paul's Monroeville store recently, you may have noticed a new product line … Kraken Apothecary. We met Steph (owner of Kraken Apothecary) at our ReUse Fest in Coraopolis in November 2019. She had just added product to our Monroeville store … and then we closed due to the Covid-19 pandemic. As our state reopens, Kraken Apothecary will be in more of our Pittsburgh area stores but we thought you should know more about the products.
A little bit about me and the business: I began studying herbalism in 2008 and making my own products in 2010 after making a major lifestyle change, due to endometriosis, and not being able to find suitable replacements for the products I had been using. As I purged my home of petroleum by products, harsh chemicals, overly scented items, and hormone disruptors I became aware of how far they invade our everyday lives. I made them for myself and noticed the changes in how I reacted to things and how much less inflammation and headaches I was having. I started to give my products to friends and family for their birthdays or holidays. Eventually they started getting fed up waiting and pushed me to pursue my dream of owning my own business. I took the plunge in 2018 and have loved every second of it. It is the most terrifying and incredible thing I've ever done.
Products:
All of my products are made with sustainability in mind. Anything I do not grow myself I find from other small businesses, preferably local and/or women owned. Everything except my cleaning products are made using the cycles of the moon and all natural ingredients. I don't use any artificial or added fragrances, anything you can smell in my products is the actual added plant product itself, with the exception of my cleaning products. The toilet bombs, juniper scrub, and Soapnut spray do contain added sustainable essential oils.
Almost all of my products come with the names of the old gods from various religions. I love being able to bring their names and stories forth so they aren't forgotten. So much of the myth, folklore, and beliefs get lost in modern times.
Healing:
Yarrow styptic $3- powdered yarrow is an astringent that stops bleeding
Eir $12- Wound salve that speeds healing
Nox $14- Arnica lotion for getting rid of bruises faster
Dhanvantari $17- disinfecting liniment used for small cuts, bug bites, fungus, etc
Io $20 – Oil for achy chests
Beauty:
Prende $4.50- Lip scrub, comes in lavender and coffee, removes dead skin on lips
Brigid $12-20- Sun face oil. Made for being in the sun as a protectant against sun damage
Shave lotion $8-16- Used for regular lotion or for shaving. Meant to replace soap/detergent based shaving products
Selkie Spray $6-12- A salt spray for hair, adds texture.
Odin $12-20- Beard oil used for stopping face itch, softening facial hair, and very slight fragrance.
Cleaning/Household:
Soapnut spray $18- used on counter tops, tables, stove tops to wipe off goop, spots and over spray
Juniper scrub $6-24- Used to scrub down tubs, sinks, showers
Spoonbutter $12- Used to hydrate wood products; spoons, cutting boards, butcher block countertops, etc
Toilet bombs $7- Used to clean the toilet. Drop one in toilet and let it fizz, scrub then flush
Cedar smudge stick $8- used for warding off negative energy, especially
Pet:
Hecate $6-18- Paw balm meant to prevent frostbite, salt burns, and hydrate dog paws